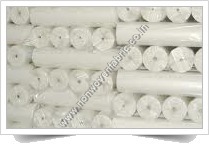 PP Spunbond Nonwoven Fabric
Product Code : PPSNF 27
Product Description
PP Spunbond Nonwoven Fabric
Using latest technology for manufacturing of polypropylene non-woven fabric, a homogenous distribution of fabric is produced with superior quality under controlled environment. The polypropylene non woven fabric is produced with a width of 1.6m, weight of approximately 200gsm/m2 in myriad of colours. Numerous filaments along in uniform flow offer low and steady weight along with excellent tensile strength.

The polypropylene non woven fabric so produced is spun-bond and displays great permeability of air. The fabric is thermo-bonded and is manufactured without use of any chemical. The fabric also displays excellent bi-directional machine direction as well as cross direction machine direction and superior anti-tear properties. Along with all this properties, the fabric is hydrophilic, hydrophobic and resistant to ultraviolet rays and fire.

We are also the proud manufacturers of customized, printed and laminated non woven fabric that can be used for wrapping gifts.

Product Advantages

Superior rigidity
Dope dying myriad colours
Water resistant
Ideal for recycling
High tensile strength
UV resistant
Products Features:
Smooth finish
Light weight
Soft texture
Environmental friendliness
Product specifications:
Fabric Width : As per buyer's need
Colour: Various Colours
Procedure of production: Spun bonded Non Woven, Diamond design
Material: polypropylene
Packing: Packed by poly bag (or as per buyers request)
Minimum Order: 1500 meters
Delivery time: Within 1 weeks
Payment terms: L/C or TT
Price Terms: FOB, CNF or CIF
Product Application:
Uses of Non-Woven Fabric
(1) Agriculture & Landscaping
• Crop Covers
• Turf Protections
• Nursery Over wintering
• Weed Control Fabrics
• Roots Bags
• Containers
• Capillary Matting
• Other Types of Covers
(2) Personal Care & Hygiene
• Diaper
• Sanitary Napkins
• Tampons
• Training Pants
• Incontinence Products
• Dry Wipes
• Wet Wipes
• Cosmetic Applications
• Removers
• Lens Tissue
(3) Construction,Furniture & Bedding
• Roofing and Tile Underlayment
• Acoustical Ceilings
• Insulation
• House wrap
• Pipe wrap
• Sofa and Mattress Lining
(4) Bags & Ladies Purses
• Sleeping Bags
• Tarpaulins
• Tents
• Artificial Leather
• Luggage
• Vaccum Cleaner Bags
• Tea and Coffee Bags
• Buff Pads
(5) Apparel & Accessories
• Coveralls
• Pillow cases
• Airlines Headrests
• Interlinings
• Clothing and Glove insulation
• Bra and Shoulder Padding
(6) Sport Textiles
• Shoe
• Sportswear
• Shirt Cover/Coat Cover
CHARACTERISTICS

UNIQUE COMBINATION OF CHARACTERISTICS
Light Weight
Permeable
Drape
Sophisticated
Maintains Shape
Soft
Sewable
Heat Sealable
Absorbent
Disposable
Non Allergic
Air Permeable
Weed Protective
Water Permeable
Insect Protective
Cost Effective