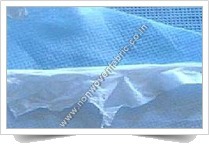 Product Description
Assisted by a team of highly skilled professionals, we are offering an exclusive range of PP Laminated Non Woven fabric. This fabric is woven using advanced machines in sync with the latest trends prevailing in the market. It is widely demanded for stitching the bags and sheets. Our fabric is offered in different prints, sizes, and colors as per the requirements of our clients. We offer this PP Laminated Non Woven fabric to our valued clients at rock-bottom prices.
Salient Features

Moisture resistance
Tear resistance
Resistance to moisture & ultra violet rays
Good strength
Available with Anti-tear and acid & alkali-resistant finish.
Comes in form of flex and static covers.
Offers superior water proof performance.
Available for static and dynamic cover requirements.
Ideal for protection against sun, rain, dust etc.
PE film covered
Perfect for use in areas that require high fluid resistance.
Can be used as hoardings and banners in signage industry.
Best constructed laminated fabrics which are ideal for screen-printing and digital printing purposes.
About the product

Polymer coated buprestoides is the raw material used in non-woven cloth which is covered with a thin layer of plastic film. The plastic film can be color printed. Buprestoides are produced only for the hand-printed silk screen pattern drearyto.
As per the current production process, the film that covers the non-woven fabrics is divided into; Hotmelts, breathable coating compound buliyate autogenetic and ILM. All the three methods have inhibited special properties to the by-product. Polymer coated buperstoides usually offer better than ordinary non-woven cloth production for a years to come.
Lastly, this non woven fabric can be used to produce a number of items such as supermarket shopping bags, conference bag, shoe cover, etc. The fabric can also be processed for packaging and logistics; for example packing advertising bags, food, flour snacks and bags for dextrinization, etc.
Product Advantages:

Light in weight- Polypropylene is the raw material used for production of the non woven fabric and has a specific gravity of 0.9 only which is only third five. The fabric has fleecy texture and has a smooth touch.
Flexibility – Produced from microfiber (2-3D), the fabric is DOT by DOT thermo-melt fabricated. The fabric is suitable for packaging and is comfortable to hold.
Water resistant- The fabric is water resistant and therefore ideal for carrying things from one place to another. Also, the slices of polypropylene make the fabric easy to breath, maintain and wash without any hassle.
Non-toxic- The fabric is manufactured to catch up with the FDA authority standards. The fabric has no other chemical composition, is safe for use for people with sensitive skin, leaves no smell, and is stable and non toxic.
Anti-chemical- Polypropylene is renowned as a blunt chemical that protects the contents from moisture, bacteria, insects, alkali corrosion, erosion and the by-product would not affect sensitive skin.
Product Specifications:
| | |
| --- | --- |
| Weight | 15- 150 gram/sq. meter |
| Coating | 20 gram/sq. meter |
| Width | Max 1600 mm (can be slit) |
| Fabric Roll Length | As per buyer's need |
| Colour | Various Colours Available |
| Procedure of production | Spun bonded Non Woven, Diamond design |
| Material | polypropylene |
| Packing | Roll with 3" tube and packed by poly bag (or as per buyer's request) |
| Minimum Order | 1000 Kg |
| Delivery time | Within 2 Weeks |
| Payment terms | L/C or TT |
| Price Terms | FOB, CNF or CIF |
Product Application:
Uses of Non-Woven Fabric
(1) Agriculture & Landscaping
• Crop Covers
• Turf Protections
• Nursery Over wintering
• Weed Control Fabrics
• Roots Bags
• Containers
• Capillary Matting
• Other Types of Covers
(2) Personal Care & Hygiene
• Diaper
• Sanitary Napkins
• Tampons
• Training Pants
• Incontinence Products
• Dry Wipes
• Wet Wipes
• Cosmetic Applications
• Removers
• Lens Tissue
(3) Construction,Furniture & Bedding
• Roofing and Tile Underlayment
• Acoustical Ceilings
• Insulation
• House wrap
• Pipe wrap
• Sofa and Mattress Lining
(4) Bags & Ladies Purses
• Sleeping Bags
• Tarpaulins
• Tents
• Artificial Leather
• Luggage
• Vaccum Cleaner Bags
• Tea and Coffee Bags
• Buff Pads
(5) Apparel & Accessories
• Coveralls
• Pillow cases
• Airlines Headrests
• Interlinings
• Clothing and Glove insulation
• Bra and Shoulder Padding
(6) Sport Textiles
• Shoe
• Sportswear
• Shirt Cover/Coat Cover